Fine Art Escape Exhibition at the Around the Globe Piano Music Festival
Around the Globe Piano Music Festival is a competitive festival for piano students with aspiration to promote worldwide contemporary piano music as well as more traditional classical styles. The aim is to encourage pianists of all levels to learn a new repertoire and perform.
Pianist by Dusan Rajsic – Special Prize to the Most Promising Pianist at Adult Classes
Fine Art Escape is delighted to award Special prize, the painting 'Pianist' by Dusan Rajsic to the most promising pianist at Adults classes. Rajsic is very talented and respected artist and sculptor and one of the best selling artists in our selection. During the festival we will organise a small exhibition of paintings by Dusan Rajsic but as well Dalibor Popovic Miksa and Branko Dimitrijevic, you are welcome to visit the festival and enjoy music and work by our artists.
Place: The Study Society, Colet House, 151 Talgarth Road, London W14 9DA (nearest tube Baronas Court / District line; free parking available on local streets).
FREE Entry to see the Fine Art Escape Exhibition during interval 12.45am to 1.30pm
Audience Tickets: Single ticket £10; Family ticket £15 (two people) (Children not older then 12 years – FREE! Piano teachers of the participants – FREE!)
Sunday 15th Nov 2015
Junior & Adults Piano Classes
For more information visit Around the Globe Piano Festival Website
You can download the programme on the link below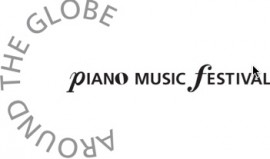 Dusan Rajsic, Pianist, Mixed media