Visit us at the stand 56 in the lower floor
We are exhibiting at the 20 21 International Art Fair at the stand 56 in the lower floor like in the previous years – Complimentary Invitations are available on our member pages – if you are not a member please register your details in the form on the right to receive your copy. Enjoy preview of our art in the price range £100 – £3000, following this link.
Fair Open to Public
Thursday 14th May 11:00am-9:00pm
Friday 15th May 11:00am-8:00pm
Saturday 16th May 11:00am-7:00pm
Sunday 17th May 11:00am-6:00pm
Royal College of Art 
Kensington Gore, London SW7 2EU
The International Art Fair visitors will be amazed at the collection of art to be found at this 'boutique fair' with examples of modern and contemporary art from places such as Japan, Russia, Poland, France, Morocco, Serbia and the Ukraine as well as art from a host of other countries making a truly eclectic selection. Also featured will be a diverse selection of modern and contemporary art from Britain.
Work by our artist Dragan Petrovic Pavle, Bull, Oil on Canvas, 130×70cm - Purchased by Michael Portillo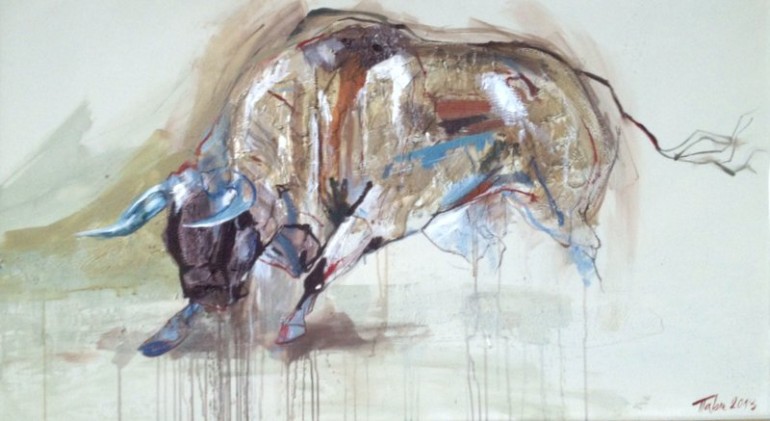 We have a pleasure to announce that Michael Portillo who opened 20/21 International Art Fair 2014, bough painting "Bull" by our artist Dragan Petrovic, please see this article as published in Antiques Trade Gazette on 30st May.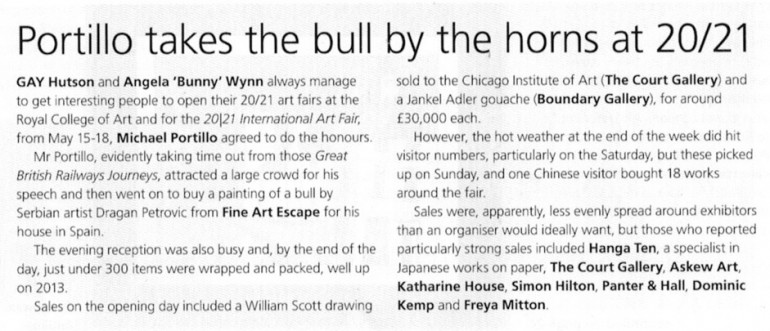 Modern and Contemporary Works at 20 21 International Art Fair
Work by well known artists from the 20th and 21st centuries are showcased by 60 exhibitors. International names include Braque, Chagall, Matisse, Miro, Picasso (all works on paper), plus British favourites such as Peter Blake, Damien Hirst, David Hockney, Henry Moore and Grayson Perry, together with many emerging and less well known artists whose work will be there to be discovered and enjoyed. An added attraction is a display from the Royal College of Art Printmaking Department.
A variety of media is included, such as oils, original prints, watercolours, drawings, photography and ceramics. All work dates from 1900 to the present date and the price range is quite reasonable.
Work from all over the world has been collected by many galleries and art dealers to be showcased in the cosmopolitan city that is London. The 20 21 International Art Fair provides the perfect opportunity for art lovers to appreciate the incredible diversity of this era of art – all under the one iconic roof.
We are inviting you to be our guest at the 20 21 International Art Fair and visit us at stand 56 – download Your Complimentary Invitations from our member pages. More details about the event you can find on the 2021 International Art Fair official website here.
Check our member pages for all our membership offers – free subscriptions to top international art magazines and Complimentary Invitations to art events across the UK all year around. In the past we organised art competitions to win oil on canvas paintings by Ivan Stojanovic, won by Stefan Finsinger.
"I am more than happy to have won the painting from Ivan Stojanovic.
The colors of this landscape scenery are impressive and I have already the perfect spot in mind where to hang the picture. The next time when I am in Cambridge, I will definitively stop by your gallery."
Stefan Finsinger the winner of the Prize Draw for Painting by Ivan Stojanovic on 20th February 2011 at the 20 21 International Art Fair.