Our Artist Branko Dimitrijevic at 41st Eastern Open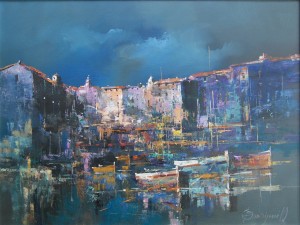 Private View Invitation for this exhibition opening on Saturday 10th of April 2010, together with many other great art offers, available to our members. Visit Art Fairs in Chelsea and Reading in April 2010 with free tickets to these events.
The annual Eastern Open continues to be one of the artistic highlights of the year for many artists and the viewing public as the competition and exhibition goes from strength to strength from its origins in the1960's.
Continuing to draw together a wide range of new work by established and emerging visual artists, it is has become the Eastern Region's largest open submission of contemporary art.
We are indebted to the local and national sponsors who contribute towards the array of generous awards including £3,000 Best in Show and are delighted to continue to showcase the best of digital practice in the region after last year's successful pilot.
Artist postcards have also returned (by public demand!), conveniently displayed in a scrolling digital format with access to the real thing for purchase and to take away at only £20 each.
Artists from 7 counties have this year been selected by a distinguished panel of national judges: Richard Layzell – Artist and Aspire Project Leader; Dr Richard Gant, Head of Quality, Liverpool School of Art & Design, Liverpool John Moores University and Claire Wilcox, Senior Curator, Fashion, Victoria & Albert Museum. Together they have provided a unique and inspiring overview of the current work on offer from artists in the East.
We have a pleasure to announce that the work from our artist Branko Dimitrijevic "Sea View" has been selected and is going to to be exhibited within Eastern Open this year.
Opening Times
Tuesday – Saturday 10-5pm
Shakespeare Barn
Fermoy Gallery & Red Barn
King's Lynn
Become our member to be informed about other similar art events in the future, like the international Eastern Art Prizes in June 2010 launched by the Russian, Eastern & Oriental Fine Art Fair to discover the best emerging artists from Russia, Asia and the Middle East.