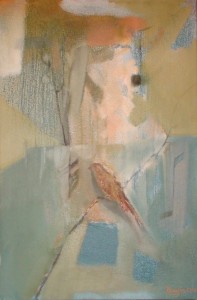 Zoran Calija was born in 1963 in Skopje, Macedonia. He graduated from the Academy of Fine Arts in 1989 and became member of the Association of Fine Arts in 1990. He has participated in many group exhibitions and had a few of his own as well. Even though he paints for a living, Zoran Calija is a very versatile artist and is also a theatrical director, scenographer, actor, founder of a painting school which prepares its students to the Fine Arts academies, and is also the founder of a theatre in which countless performances have been held.
His latest series, "Birds", contains sculptures, paintings and drawings created between 2007 and 2009. Zoran spent two months at the end of 2008 on a study trip to Paris, where he created many of his works on the subject, resulting in an exhibition in Paris last year and another planned for this October.
The birds as a motif of Zoran's latest work are brought into the ideas and symbols they represent. Various bird species on his canvases and sculptures, flying free or trapped in cages, can be interpreted as symbols of the complex human soul. All those birds, flying, standing still, singing, sleeping, are seemingly similar but that is only an illusion, because every bird is completely different, completely individual, and has a unique relationship with the others, through a blue light that covers his paintings. They sing to each other songs of love, freedom, unity and farewells.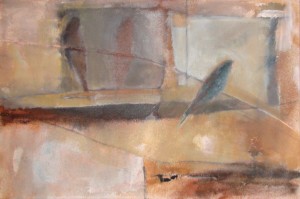 Zoran's birds represent the artist's ascension from the material towards the spiritual. This series reveals the artist's inner self, and the inspiration for this works is not to be found in the material world but in the artist's impressions, they are based on his rich imagination and a strong temperament. The artistic handwriting of this artist moves from poetic realism to expressionism subtly. From the transparent paintings of sparrows, where colours gently flow, to the potent representations created wit owls as the motifs.
In his work, Zoran Calija uses non-traditional materials, in his oils volcanic red earth and quartz sand, and in his drawings he uses a process of oxidising metal shavings. The effects created with brown and blue-green accents of colour, with soft passages and fine, warm nuancing, brings subtleness and warmth to the paintings. The work of Zoran Calija surely won't leave you indifferent, because you'll feel in them the true reflection of what the artist has painted and what he intended on sharing with us all.
Read more about Calija's background and inspiration in this exclusive interview.