Sonya Radan work was shortlised for the Annya Sand Eastern Prize at the Russian Eastern and Oriental Fine Art Fair in London, Hotel Park Lane, Mayfair, 10th-12th June 2010.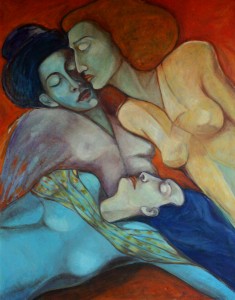 Yugoslav-born artist Sonya Radan graduated at the University of Fine Art, Sarajevo, former Yugoslavia. She has exhibited throughout Europe and the UK, where she has been living and painting for more than fifteen years. Sonya has participated in numerous solo and group exhibitions in the UK and abroad.
Sonya's art is figurative, intimate and modern in an expressive manner; she paints familiar subjects that are deeply personal and individual. Her paintings are unpredictable; they change from rich to subdued. She freely experiments with texture, sometimes to obtain a feather like smoothness and at other times to create thick impasto strokes. In her work, Sonya is intrigued with the souls of her subjects, locked away behind their puzzling smiles, fleeting touches and mysterious glances.
Sonya takes risks with materials and continues to experiment with a range of textures and media, including oils, silks and glass. Her strokes are layered and considered while her use of colour varies from 'heritage' hues, in her icon-like naked women, to bold, sunny ones in her subtle, batik-style pieces.
Sonya Radan's paintings elicit the same reactions wherever they appear and the reason for this is not their familiarity but their emotional expression.