Ljiljana Radosavljevic was born in 1951 in Belgrade. She graduated from the Faculty of Architecture in Belgrade, where she won the October Prize for the best graduate work. Parallel to the studies of architecture, she starts painting and gains her education in art through her many travels across Europe, America and Russia. Starting in 1986, she participates regularly in group exhibitions and her first individual exhibition of drawings takes place at the Faculty of Architecture in Belgrade in 1977. She has been a member of the Serbian Association of Fine Arts since 1990 and a member of the Serbian Association of Fine and Applied Arts since 1991. She lives and works in Belgrade as an individual artist, her work includes painting, architecture and graphic design. Among other things, she has been appointed to design spatial settings for the exhibitions of great Serbian scientists Nikola Tesla (in 2006) and Milutin Milankovic (in 2009).
The most frequent subjects of her paintings are the Belgrade Fortress, Kalemegdan, the Cathedral of St. Sava, the Belgrade Port and other urban scenes. Aside from her native Belgrade, which is frequently present in the paintings of Ljiljana Radosavljevic, the town of Ohrid in Macaedonia is another great inspiration of hers.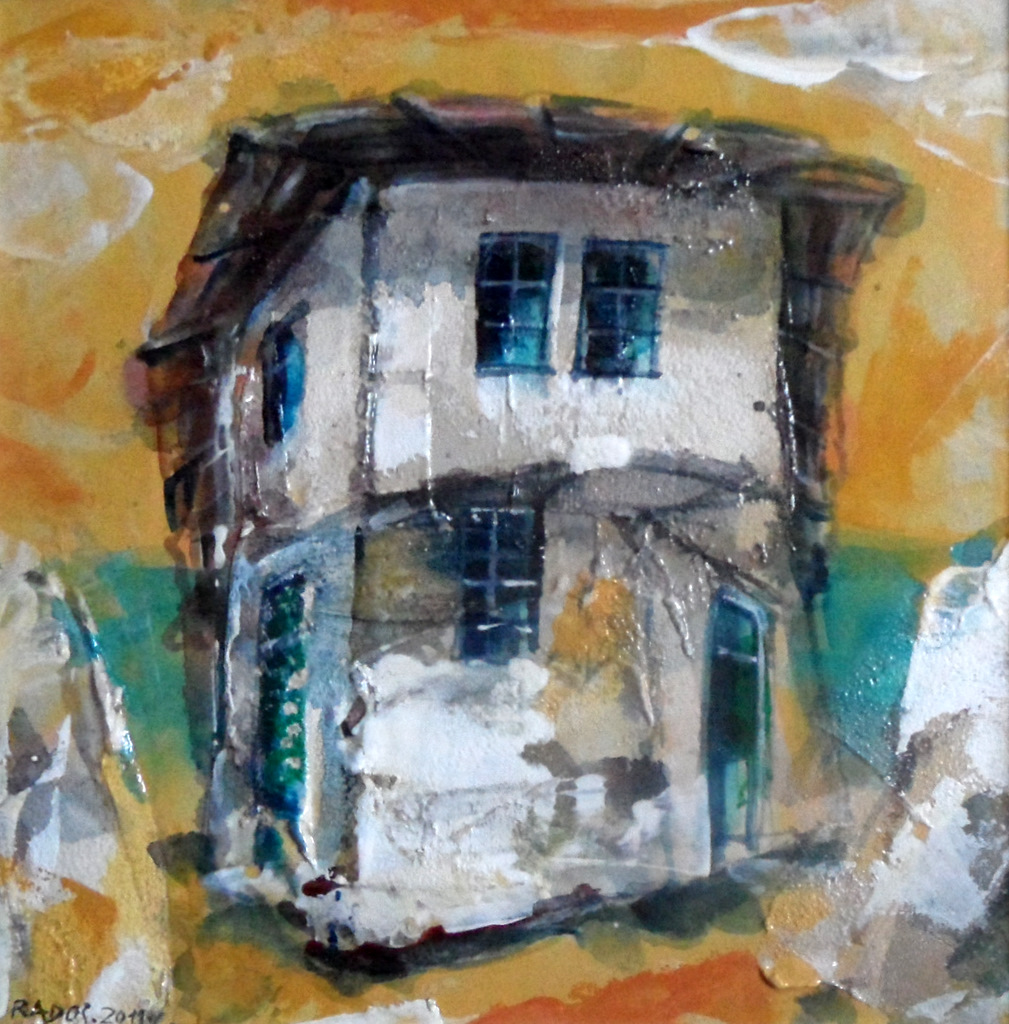 The series called "Notes from Ohrid" is comprised of houses in the town of Ohrid, each of them a world of their own and each with its individual message. Even though they all belong to the same brotherhood, there are no two identical houses or houses built in the same way. In some of them, the walls are weaved in small motions and in others in large ones. In some the mortar resembles one of the pearls of Ohrid, in some it is traditional embroidery and in others it is blackened, old and torn by the hand of time. The "Notes from Ohrid" in fact, tell the story of the artful hand of the builders, about the many ideas, inventions and the infinite beauty of folk architecture and the houses of Ohrid themselves. With this series, Ljiljana Radosavljevic paints the atmosphere and the beauty of Ohrid, and she undoubtedly succeeds in doing so.
Ljiljana uses a technique that is quite interesting in the field of oil painting. Before actually painting, she applies a paste sporadically to the board on which she will paint, which will give relief to the painting. Then, she paints over it in thin, watercolour-like layers. The colors often overlap, creating new colored surfaces. The bits of unpainted background are left intentionally here and there, allowing the painting to "breathe" and gain dynamics, as the painters like to put it.
The colours are very vivid, and she often uses pure colors directly from the tube. In the synergy of colors and strokes we see in her a temperamental expressionist. Ljiljana's art is light and unpretentious and it will appeal to any art lover who wants to see free strokes but also a preserved and recognizable shape of the subject.