Enjoy Ljiljana's still life paintings in our gallery.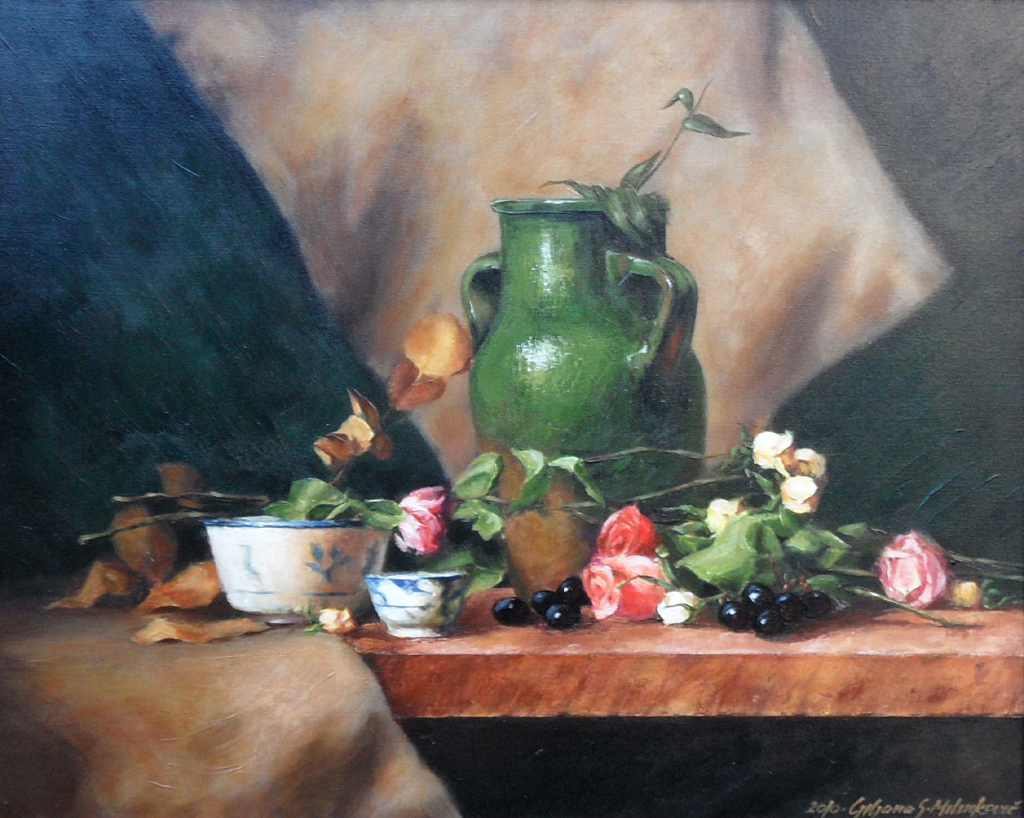 Ljiljana Milinkovic was born in Belgrade in 1959. She graduated from Design School, the department of Graphic Art, in 1978. She created illustrations for the Institute for Schoolbooks while studying sculpture at the Academy of Fine Arts, which she graduated from in 1991.
Ljiljana specialized in icons and calligraphy in Greece in 1992 and 1993. She is a member of the BBK, a German artistic association, where she was employed as an illustrator and portrait artist. Between 1996 and 2009, she worked for the publishing fund of Serbian Orthodox Church, where she did icons, calligraphy and illustrations. Her icons can be found in Serbian homes all around the world.
Aside from calligraphy and icons, Ljiljana is also a master of painting, especially still life. She paints in oil and her carefully balanced compositions, gently diffused light, tender lines and layers are reminiscent of old masters.
The choice and distribution of elements in her paintings offer a sense of order, peace and meditative silence, quietness and intimacy of a private personal corner. Considered individually, all the elements in her paintings of still nature are painted and shaped with emotions and in balance with the rest of the painting.
The full colours of pitchers, fruits and flowers are harmoniously confronted by dark backgrounds, creating distinctive plains. Soft, light drapes always have a special place in the composition, skilfully positioned in each painting in a different way.
Ljiljana is a master when it comes to painting the materials which the objects are made of, and she can express the firmness of a stone table, the softness of light drapes, the juiciness of a ripe fruit. The degree of realism in her paintings is far from just a mere imitation of the nature, because she uses a personal stamp that separates her from other painters of similar orientation. She never crosses the line between the necessary and the superfluous when it comes to details, and she always does just enough to express the material and the texture of her objects.
The harmony in her paintings is achieved by arranging evenly all the elements, the larger ones – vases and jars – located in the back, and smaller ones, like fruits or flowers, in the foreground. Then, over all the objects arranged like that, she places a rose branch or a leafy vine, rendering the composition more dynamic and interesting. Each of her still nature paintings is carefully meditated, and each detail has a reason for being there.
Ljiljana is a colourist who uses strong accents without prejudice, and they are mainly in the same tone. Her dark green vines on lightly coloured drapes and white jars are strongly contrasted with bright red apples or roses. The simplicity of everyday objects, the balanced composition, the intimate atmosphere and pleasant colours make us accept easily these realistic images as pretty paintings, which we would love to have and see in our homes.