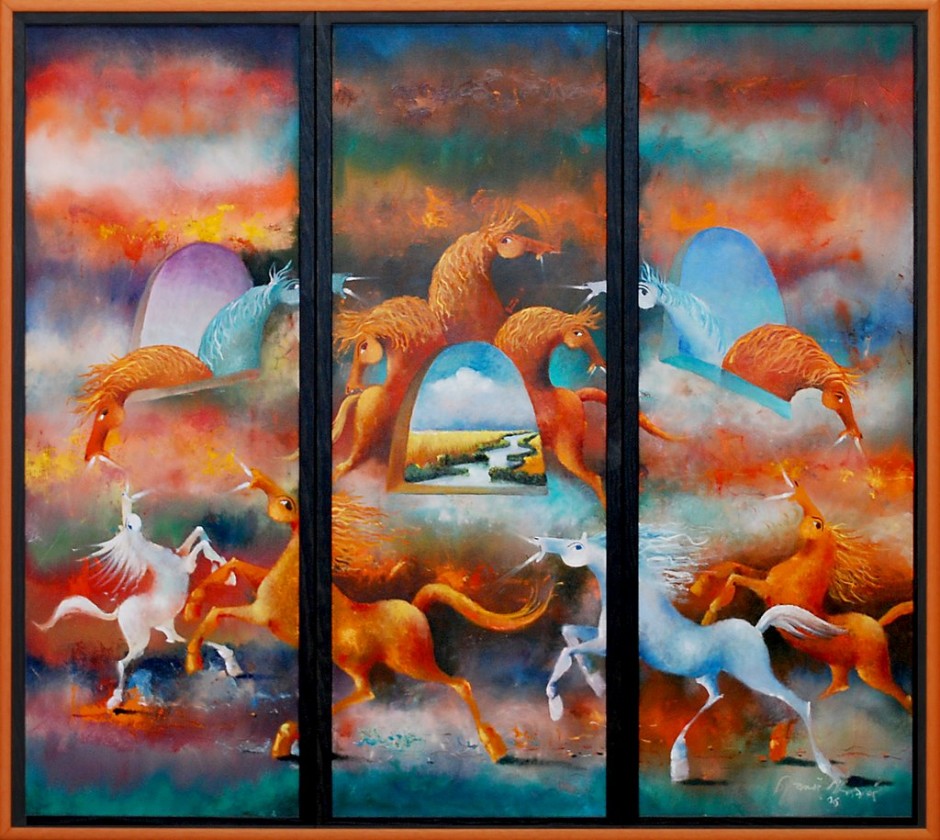 Enjoy this art video featuring Horse Paintings by Janos Mesaros.
Janos Mesaros was born in 1943, in Serbia's northern region of Vojvodina. A Hungarian by nationality, he lives and works in Belgrade. This famous and world renowned naïve painter arrived on the art scene in 1979 when he joined a group of naïve artists called "Selo". With his motifs he is always close to Vojvodina and it's vast plains. He is well known for his paintings of horses and various details of Vojvodina's typical farms.
Mesaros is a painter of optimism, force and joys of life, whose paintings leave no one indifferent. This prolific artist has had thousands of group exhibitions and about 270 individual ones, and in total he has presented over 7,000 paintings. Mesaros has exhibited in Italy, France, Germany, Austria, Hungary, Spain, Canada, America, Australia and many more countries around the world. His paintings, whether they are pastels or oils, are full of colour and energy.
In Mesaros's early works, the wish to recognize and record scenes from everyday country life is clear. Trying to symbolize as mush as possible the life and customs of people of the fertile Vojvodina plains, Janos underlines the characteristics of this region – tulips, corn, stacks of hay, yellow pumpkins. In the late 70s and early 80s, his work had specific motifs of Vojvodina landscapes, in which the characteristic patches of the plains, like flying carpets, fly towards the sky. Those fragments of fertile, green or flowery land gain the form of a certain symbol of pure, separate and preserved beauty of nature. However, in the early 90s and later, Mesaros's paintings have had a different tone to them. We see in them the artist's awareness of ecological issues, and the need to protect nature as one of humanity's major problems. At the same time, those images of separation, dissolution and disintegration of the soil have different metaphoric potential. In such paintings, the artist foresaw the dramatic divisions, separations and limitations that took place in ex-Yugoslavia.
A particularly interesting part of Mesaros's opus is his cycle of slender, strong, purebred colts. This symbolic theme of horses that is always present in Janos's paintings is strongly related to Vojvodina, to the plains, to the countryside. Mesaros fits horses in his landscapes, ties carriages to them like Noah's Ark, he elevates them to the sky, hovering over lonely farm houses or the characteristic green of the gardens. Those playful horses, fiery or winged, mesmerize with their beauty and genuineness. They are easily remembered and hard to forget, those black and white horses with fiery manes and fairy-like eyes. They are there not just as inspiration and a motif, but also as a symbol, as a scream and a bang. Mesaros's horses are highly stylistic and are almost a trademark of his work.
In his poetic and symbolic work, Janos invents a whole new style in naive painting, based on a unity of the legend and reality of the land, and with skilful distribution of light and gentle colours he brings together biblical and cosmic themes. We have before us an unusual painter, very deliberate in expression, who tries to reveal what is hidden inside us, and penetrate deep into the psychology of what we see and live, and that is the greatest quality of his work. In his paintings there is a unique, subtle and light dose of surrealism that gives them a particular appeal. The painter of fire and the painter of silence, of quiet calms and storms, the poet painter, Janos Mesaros weaves his unique tapestry that will be the essence of our lifetimes.