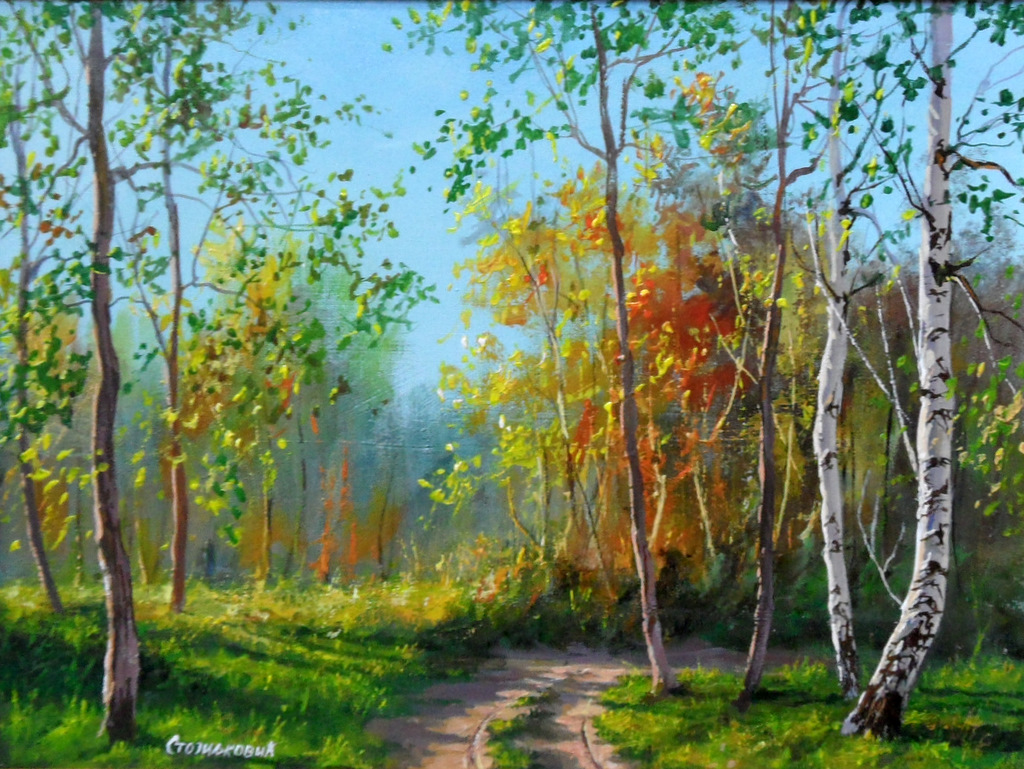 He was born in 1968 in Vranje, where he still resides and works. He has been painting for the last 15 years, during which time he had many individual and group exhibitions. His works are featured in many galleries in Serbia, as well as in many private collections abroad.
The art of Stanisa Stojiljkovic is characterized by realistic themes and details. He mostly paints landscapes and occasionally still natures. He offers the best of himself in those paintings – landscapes, mostly set during wintertime, are very convincing- they transport us to those snow-covered parts where the sun is always shining.
Meadows with a tree or a path here and there, small forests, birch trees, lakes and creeks- these are the painter's most frequently used motifs. Everything is covered in bluish snow, the ground, the trees, the shrubs and paths…and only every once in a while a doe or a wolf wonders in. Stanisa paints the landscapes of untainted nature, where there is no sign of human existence or influence other than an occasional footpath.
His paintings are filled with light and whiteness. Blue skies and tenderly pink shadows of trees on the ground form the basic colour palette of his paintings. Occasionally, there are pastel tones used for the tree bark or for a frozen pond, but the main impression comes from the overwhelmingly white snow that spreads as far as the eye can see.
Several landscape paintings present another season- spring, summer or fall. These paintings are also very picturesque and created with a lot of details, so that every stalk of grass and every leaf on a tree are easily discernible. The landscapes remain the same and it is the season that changed, while the whiteness of the snow has been replaced with richer, fuller colour palette based on green, brown, yellow and ochre.
Stojiljkovic also paints still nature with flowers, fruit, various vases, dishes and other household items. These motifs are all well-known and much used in painting, but Stanisa uses them in their own way. He paints with precision each fruit and each flower, with profound understanding of the matter and depicting them perfectly.
Like any other artist, he also paints motifs of his hometown, Vranje. Old gates, worn-out facades and houses are what interests him the most. Vranje is famous for its interesting architecture, a mixture of Serbian and Turkish elements and influences, and this painter chooses those vibrant details as themes of this paintings.
In the end we can say that Stanisa Stojiljkovic is a painter of realism who strives to express all the beauty of the nature and things that surround him. As a painter, he still has a lot to offer and we will be glad to witness his further development.