Private View Invitations Available on our Member Pages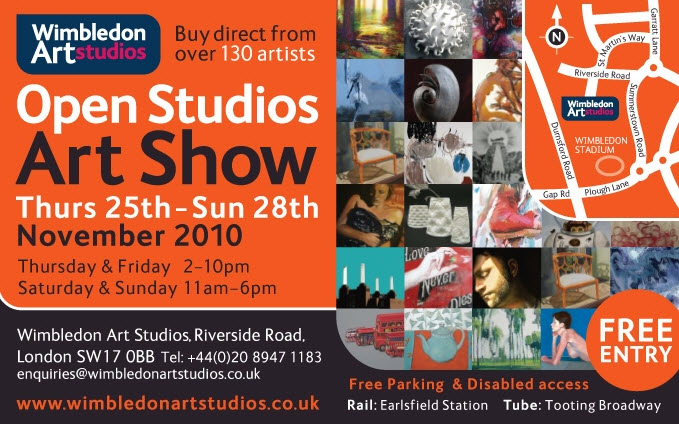 Wimbledon Art Studios is a well established vibrant hub of contemporary art and twice a year opens its doors for a four day 'Open Studios' art show.
Opening Times
Preview Reception
Information available on our Member Pages
Public Days
25 – 28th November 2010
Thursday & Friday 2pm – 10pm
Saturday & Sunday 11am – 6pm
Wimbledon Art Studios
Riverside Yard, Riverside Road
London, SW17 0BB
At the show the public are invited to come and buy directly from the artists. It's an ideal opportunity to view their latest work and to buy the work commission-free.
As always there will be plenty of new and exciting work by up and coming as well as established artists, photographers, ceramicists and textile designers. A wide variety of work is available across many disciplines including: painting, ceramics, sculpture, textiles, photography, printmaking and furniture design – there is something of interest for everyone.
The show attracts over 10,000 visitors annually, including gallery owners, art collectors and the general public. It is thought to be the largest Open Studios art show in Europe.
Login to our members area and receive information on the Private View opening, enjoy other membership benefits and invitations to top UK art events all year around.